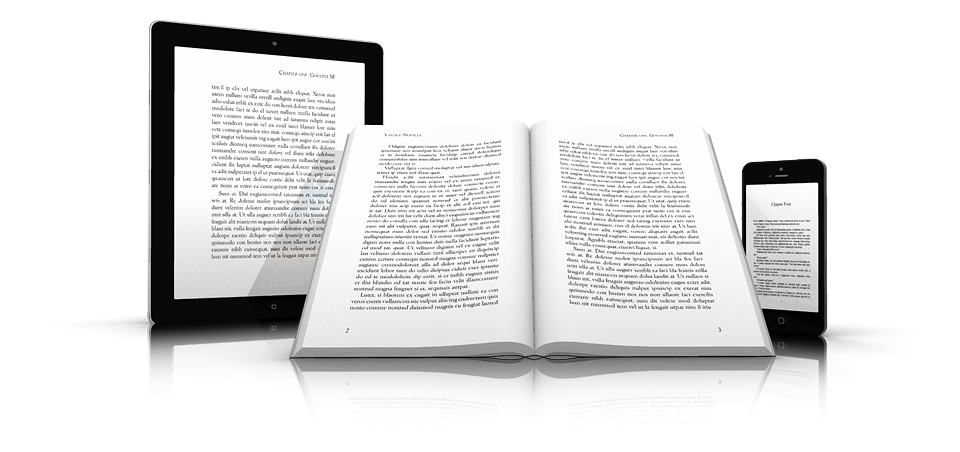 Our print and eBook formatting service is the perfect package for indie authors who are looking to maximise their book's potential from the off. We create a professional, high-quality book interior from your finished manuscript, making sure that it meets industry standards. You will receive a PDF file that will be 'print-ready' to use for online Print on Demand companies, such as CreateSpace, Lulu, or Ingram Spark, and two EBook files (MOBI and EPUB), ready for upload to your digital retailer/distributor.
Service includes:
Print and eBook formatting
Professionally designed and formatted print-ready PDF file
Professional formatted eBook files (MOBI and EPUB formats)
Table of contents created (eBooks only)
Copyright page and content (if you don't already have one)
Your cover image included in your file (supplied by you, unless you opt for one of our cover design or combined packages) – eBook only
Unlimited changes until the project is signed off
Optional extras:
Non-fiction – Please contact us for further details
Images – although not recommended for eBooks, we can work with images for a small cost, with a fixed price per image for both print and eBooks.
Tables and graphs – Again, although not recommended for eBooks, we can work with tables/graphs/charts for a small, fixed cost per inclusion for both print and eBooks.
Decorative elements (print only)
Content changes after the project's completion (once the book has been signed off).
Smashwords version (eBook only)
THE NEXT STEP
Simply complete the form on the right, giving as much information as possible, and this will allow us to know whether we have enough to start with or whether we need to contact you to discuss requirements before getting back to you with our initial concept and thoughts. When we, and you, are ready to begin the print and eBook formatting process, a deposit of 50% of the standard fee is required. The balance of the payment, as well as any additional costs for optional extras, will be required once a design has been agreed upon and prior to the release of any artwork. If you'd rather discuss your requirements in an more informal manner prior to going ahead, please use our standard contact form.